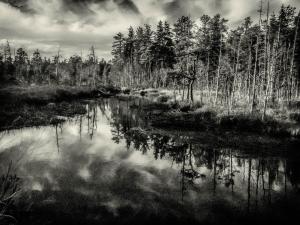 Louis Dallara has been called the Ansel Adams of the New Jersey Pine Lands an has created this site to record with images his personal relationship with the Pine Lands aka Pine Barrens.
Please visit my Fine Art Photography home site.
It started early on with studies of deep ecology with Betty Woodford of the Cedar Run Wildlife Center located in Medford New Jersey. I was impressed by the unique plants and herbs found along the Wading River. By canoeing the rivers, I was able to see some of these unique plants.
The Pinelands Preservation Alliance provided Russell Juelg, director of outreach for the Pinelands Preservation Alliance, Russell who is a naturalist. These educational outings with Russell furthered my quest to find photos of rare plants.